The 'Golden Age of Drag Racing', a period of time roughly from 1959 to 1974, was an era when the front engine slingshot, both gasoline and nitromethane powered, dominated the drag racing headlines. It was when the sport emerged from the back yards and garages of America and relocated to the speed and auto specialty shops that had sprung up all over the country to satisfy a growing demand for high performance parts. T shirts and Levis remained the preferred uniform of choice, though a few teams started to show a bit more spit and polish. This was also a time when the weekly show, not the national event, dominated the sport. Drag racing was so popular that a major metropolitan area could support several tracks. The resulting competition for the fan's dollar generated large purses for the racer. Guys like Bill Dunlap, showed up week in and week out for the chance at a trophy, some cash, and a little glory. But, the gild of this era would soon tarnish and fade, gobbling up a generation of drag racers who could no longer afford to race. The 1970s brought double digit inflation rates, the emergence of corporate funded teams, and the first wave of professionals. The hobby racer, long the mainstay of the sport, began to vanish from the drag racing landscape. Capitola's Bill Dunlap drove both top gas and top fuel dragsters during this era. He takes us back now for a glimpse of the way it was during that exciting and colorful period in the history of the sport.
---
Bill was born in Sacramento, California on February 3, 1941, but lived the first ten years of his life in West Point, California (CalaverasCounty). Both parents worked in the logging camps of the Sierra Nevada Mountains; dad as a cat skinner and mom as the camp cook. When his parents divorced in 1951, Bill went with his mother to Santa Cruz County and has remained there ever since.
BILL: My father operated the bulldozer that brought logs into the landing for loading onto trucks; my mom cooked three meals a day for over 60 men using just a wood stove. The cook house was a tent on a wooden platform out in the woods. Before I could walk she kept me in a big cardboard box on the floor.
West Point, California has not changed much from the 1940s - the population today is 746. Bill's mom owned a restaurant and grocery store in the parcel next to the Academy Club (shown in the center of the image).

Bill graduated from Santa Cruz High School, continued his education at Cabrillo Junior College for a semester or two, and then decided to go to work full time because he wanted to race.
Bill: : I was just another knucklehead kid that thought more about automobiles than my future. I liked messing around with cars and started going to Half Moon Bay and Fremont to watch the drags. My first car was a Model A coupe with a flathead engine, followed by a 1928 Model A pickup truck with an Oldsmobile motor. Eventually, I sold the Olds engine and replaced it with a loaded 331 cid Chrysler hemi bored 1/8 over. It had Jahns pistons, an Isky cam, 8 Stromberg carburetors, and a Schiefer clutch; I still have that engine today. My first run down a drag strip happened at Half Moon Bay in 1960 with a brand new stock '61 Pontiac -- I was hooked. My first race car was a dragster that I welded up myself in the garage from steel tubing. I took the Chrysler engine out of the pickup and ran in B/GD.
Bill ran the B/GD only a few times before he would partner up with another young drag race enthusiast who was looking for a driver.
Bill: I was out in the driveway one day working on the dragster when Dick Oswald stopped by. He said, "I have heard about you; I want to build a blown gas dragster and would you be interested in driving it"? I didn't hesitate a second, and a few weeks later we drove down to Race Car Specialities and ordered a chassis from Huszar (Frank) and Steen (Roy). Dick put together a 392 cid Chrysler engine with a 3/8" stroker, Howard cam and rods, and Hilborn four throat injectors. We raced together throughout 1964 and 1965 eventually winning the Drag News #4 spot on their Mr. Eliminator list for top gas dragsters.
Bill's first dragster: a B/GD that he built in his garage. It was powered by the Chrysler hemi that he had in his Model A pickup truck; staging lanes at Salinas Drag Strip (1963).

Candid shot of the 22 year old Bill Dunlap in the pits at Salinas Drag Strip (1963).
Dick Oswald and Bill Dunlap with their 132" RCS car at Fremont-June 1965.
<Steve Reyes photo>
Oswald-Dunlap after it had been lengthened-1965 Winternationals, Pomona CA.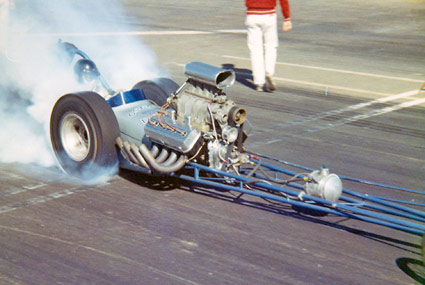 Bill doing his best Davy Uyehara imitation in the Oswald-Dunlap car at Fremont; the trick back then was to be especially adroit in avoiding the stud supporting the end of the fence.
<Rich Welch photo>

The match race with Arigoni-Gregg for the No. 4 spot on the Drag News Mr. Eliminator list; unbeknownst to Bill, chaos was reigning on the track behind him - Glenn Gregg lost control of the race car and scooted over into Bill's lane and came ever so close to the Oswald-Dunlap machine.
It was not uncommon at Fremont Raceway in the 1960s to have a top gas dragster matched against a top fuel dragster. In this shot by Ted Stewart, Bill has gotten out on Rich Bruckman in Jesse Perkins' top fuel dragster and would go on to win the round; April 4, 1966.
In 1966, Bill left Dick Oswald and started driving for John Halstead. The chemistry between Bill and Dick was fine, but there were some issues with Oswald's spouse that were causing Bill a lot of grief.
Bill: Dick got married after we had become racing partners and his wife was a handful; a real character. I wasn't married at the time, but I couldn't bring a gal to the drags because Donna (Dick's wife) was capable of starting all kinds of drama. But, that was not the worst of it. We had an old tag-along trailer that we had enclosed and fiber glassed to keep the elements out. One day I found Dick cutting off the top of it. Donna wanted the top removed so people could see the car when we went to the races. That was just more than I was willing to take, so I quit driving for Oswald.
Bill also spent seat time behind the wheel of dragsters other than just the Oswald-Dunlap RCS car. At times, Dick would put his motor in Dugan Prentice's Woody car or Ron Love's Fuller car. He also drove a top fuel dragster for Ralph Hayes of Santa Cruz. His association with Hayes would indirectly lead Bill to his next partner in John Halstead. Once at Half Moon Bay and driving for Hayes, Bill was unable to return for the top fuel eliminator final due to breakage. Ted Gotelli's driver, Denny Milani, singled for the win. It was said that Denny was only going to wheel Gotelli's fuel car a few more times and then start driving Halstead's new gas car. But, tragically, Denny was killed in a horrific accident a few weeks later at HMB and John offered the job to Bill.

BILL: I was there on the day that Denny lost his life. Half Moon Bay had great atmosphere (literally) and was very popular with the racers, but the outrun was fairly short and there was a ditch that ran perpendicular to the end of the track. On the run that took Denny's life, he drove into his parachute (stayed on the throttle until the chute 'hit') but it failed to open. At 210 mph he had covered a lot of territory, and not wanting to challenge the ditch, put the dragster off into the brush on the right side of the strip. But, the ditch went off at a 45 degree angle and captured him anyhow. Denny was in a legs under car and when it bottomed out in the ditch, his legs got caught in a vicious vice and he suffered fatal spinal injuries. So, the ride that was originally planned for Denny landed to me.
Bill behind the wheel of Dugan Prentice's Woody car with Oswald's motor; Half Moon Bay, May 1966.
<Ted Stewart photo>
Ah, drag strips in the 1960s: got to love the dandelions at the edge of the track. Bill heading skyward in Dugan's car on what turned out to be a very stout 187 mph run; a curious Dick Oswald watching intently in the background.
Dick's motor in Ron Love's Fuller car racing Davis-Ingram at Salinas Drag Strip.
<Steve Reyes photo>

Bill's autograph clearly etched into the asphalt after a run in Love's car at Salinas.
<Steve Reyes photo>
The team of Halstead-Dunlap hit the strip in early 1966 and went by the name of the Western Manufacturing Company Special. The car, distinctive with its low profile Hilborn injectors and Scott look alike scoop, was very competitive right out of gate. But, John, desirous of a better mousetrap, ordered a new chassis from Kent Fuller and sold the car to 'Jet Car' Bob Smith.
A rare color shot of the Halstead-Dunlap AA/GD at Bakersfield in 1966.
<Charles Milikin photo>
Eliminations at the '66 Winternationals: Halstead-Dunlap vs. Gordon 'Collecting' Collett; win to the man from Ohio despite Bill's superb 8.07-187.88 pass.
<Steve Reyes photo>
Bill versus his long time friend Mike Fuller (far lane); Halstead-Dunlap defeated Mike and went on to victory at the West Coast Championships at Fremont Raceway, 1966.
<Steve Reyes photo>
John Halstead's first Fuller car with its distinctive low profile Hilborn injectors and Scott look-alike scoop; the car had a metallic blue metal flake paint job that gave it a silvery appearance in a bright sun. Bill gave the Freight Train a free pass with this red light in round two at the '67 March Meet. After this race the car was sold to "Jet Car Bob" Smith and Halstead ordered a new, light weight Fuller car that would be fitted with a SOHC Ford.
<Ted Stewart photo>
The new dragster was known as Halstead-Dunlap-Fuller and it had multiple personalities: sometimes it wanted to be a top gas dragster, and then at other times, a top fuel dragster. And, it was also quite fickle about what kind of engine block made the horsepower. One day it would demand the adored Chrysler hemi, and in another moment, the temperamental but powerful Ford 'Cammer'. Though a winner from the time of its debut in 1967, it was probably best known for being one of the two cars involved in the infamous footrace between Bill and Walt Stevens at the 1968 Hot Rod Magazine Meet at Riverside. The team raced extensively on the West Coast from 1967 through 1969 competing more and more as a top fuel dragster as time went on. John, tiring of the expense of nitro racing, decided to put a gas motor back in it. But Bill, by now totally hooked on the nitro experience, decided to move on and find another fuel ride.
BILL: To my knowledge, the H-D-F car was the only gas dragster on the West Coast to have a Ford 'cammer' in it. It ran consistent 7.7s and 7.8s which was a quick time for a gas dragster in those days. We also held the track record for speed at Half Moon Bay with a run of 196 mph. But, it also had its dark side with oiling and bearing problems. Once we took it to Irwindale Raceway for a top fuel meet with Ed Pink in charge of the nitro tune up. We pushed down, fired it up, and staged to run. However, when the oil gauge suddenly showed zero pressure, I started frantically waving at Ed to get his attention. He came over, reached in, and grabbed the throttle and gave it a good whack; then did it again! I thought, "Holy moly, this thing is going to come apart". Finally, he gracefully allowed me to shut it off. It turned out that we had no oil pump as the shaft to that unit had been sheared off. This was just typical of the gremlins that plagued the 'cammer'.
We would also put John's Chrysler motor in and race it on both gas and fuel. It was with the hemi in it and in its nitro trim that I became involved in the infamous push race with Walt Stevens at the '68 Hot Rod Magazine Meet at Riverside. I rolled out first, but the engine just belched a ball of flame and quit: the barrel valve had been set too lean. Walt, with the motor really up, only made it out about 15 car lengths before his clutch went away Then, he jumped out of the cockpit and started pushing it down the strip. I unbuckled, jumped out, got the clutch board from the crew, and did the same. It was real hot, all the fans were screaming and yelling, and I made it to the finish line. I did not know it at the time, but Walt had passed out at about half track from this crazy ordeal, and the emergency crew would need to give him an alcohol bath to get his body temperature back down. I was just about dead, too, and was taken to the showers at the track. Revived, we actually returned to race Dave Babler in round two. I got to the lights first but got a nice oil and water bath for my effort. Convinced that we had lost a cylinder wall, John loaded it up and we went home. When we tore it down, it turned out that we had only lost a head gasket; sigh.
Bill Dunlap and John Halstead in front of John's house in San Jose with the new lightweight Fuller car in 1967.
<Steve Reyes photo>
"The Cammer" running in Top Gas Eliminator at the 1967 PDA Meet at Lions Drag Strip.
<Alan Earman photo>
Riverside Raceway, fitted with a Chrysler on fuel, at the conclusion of the infamous "push your dragster" to the finish line with human horsepower; John, glancing back at Bill, seconds later would catch his dead-on-his-feet driver as he collapsed to the ground. Walt Stevens, who was "racing" Dunlap, had already collapsed while pushing his dragster in the left lane. Both cars broke on the starting line and the rule at the time was to win the race you had to cross the finish line - one way or another. This deal ended that stupid rule.
<Steve Reyes photos>
Bill: I loved driving the car on nitro, but John was getting tired of the expense involved with fuel racing. For example, one time at a PDA race at Fremont, and paired against Vic Morse and the Bev's Steak House dragster from Oregon, I flipped it over. We didn't know it at the time, but the rear end had broken. When I left the line, the car started to dart into Cordy's lane after which the throttle stuck. I struggled so hard to pull it back that I ended up bending the hoop on the throttle. The only thing left to do now was clutch it, and when I did that, the car went crazy. Dennis Baca later said that he had never seen a car turn over so fast at the starting line. John put the gas motor back in the car and had it repainted. I drove for him a few more times before stepping down in favor of Dan Madigan.

Halstead-Dunlap-Fuller in nitro trim at the PDA Meet; Fremont Raceway.
<Steve Reyes photo>
Racing Gary Ritter at the 1969 March Meet; nitro in the tank.
<Steve Reyes photo>
The last time Bill drove for John Halstead; getting bounced by Muravez and The Train "……He beat the tar out of me that day……" (Bill).
<Steve Reyes photo>
As the decade of the '60s was winding down, so was Bill's time driving blown gas dragsters. Coincidentally, on the day that he last drove for Halstead, Bill was approached by John Blanchard. Blanchard, together with car owner 'Giant' Jim Moore, had hastily put together a top fuel dragster, but neither had a license. Bill jumped in and drove for both Halstead and Blanchard at Fremont that day. Bill drove it one more time at Sacramento Raceway, but Moore, desirous to drive too, took the car and departed. Blanchard, left with a motor but no car, purchased a Woody car that had been originally intended for Tom 'The Mongoose' McEwen. When 'The Goose' decided to stay with funny cars, the chassis was sold to another interested party before ending up in John's garage. John put Bill in the driver's seat and the pair would stay together during a time that turned out to be the last hurrah for the front engine top fuel dragster (1970-1971). By 1972, the FED was an endangered species, and by 1974, extinct.
BILL: John (Blanchard) and I raced together from late 1969 until March 1972. We had three cars together: Jim Moore's car, John's Woody, and finally, my Woody car with John's motor. John was a hell of an engine builder and all of these cars ran fast. Even that first time out with Jim Moore, we qualified better than the car had ever run. But, it had this tiny tank and would run out of fuel if not topped off after the burn out. In the first round of eliminations that day, I got way out on Butch Maas and made to about 1000' feet before the blower exploded when it ran out of fuel.
After Jim left, John bought a Woody car from a kid that had been a good friend of John Mulligan. But, 'The Zookeeper's' death really upset the kid and he sold the car to Blanchard. John put a full body on it with a gold flake paint job and we raced this car until my unfortunate encounter with the guard rail at Lions Drag Strip. I can recall that day, July 11, 1970, as if it were yesterday. It was a qualifying pass and I was in the right lane. I was almost to the lights and ready to deploy the chutes, when the left tire disintegrated slinging me across the track and into the guardrail. The fuel caught fire about the same time I started to climb the rail. Fortunately, the chute fell out and pulled me down from the guardrail after which the car ground along the rail until friction stopped it. It took ten minutes for the track emergency crew to extricate me from the car. The concussion from the explosion had momentarily knocked me out, broken my goggles, and knocked the visor off the helmet. But, other than a crushed sternum and some broken ribs, I was just sore as hell for a month. One of two things had happened: either the coupler let go and blew the tire out or the tire let go and the coupler disintegrated because of it.
At the finish line at Fremont in the Blanchard-Moore T/F car; note: blower belt off the pulley when the car ran out of fuel versus Butch Maas.
Bill driving John Blanchard's car: kicking the rods out of the block vs. Prudhomme at Fremont on Jan. 01, 1970.

Just as interesting as Bill's burn out in Blanchard's car at Sears Point were the notables taking in the action: 'Jet Car' Bob Smith (white pants) and next to him is Tom Prufer.
<Steve Reyes photo>
This shot by Les Welch will tell you why the fans loved Lions Drag Strip - PROXIMITY TO THE ACTION; Gary Montgomery and John Blanchard (blue pants) trying to stay out of harm's way.
The aftermath of Bill's encounter with the guardrail at Lions in 1970; the exact reason the Goodyear slick failed was never resolved.
<Steve Reyes photo>
The story goes that after the crash, John gave Bill the steering gear, front spindles, rear end, seat, and a parachute; and, that they could continue racing together if Bill had a new car built.
BILL: I probably ordered the last front engine chassis Woody Gilmore ever built. He tried to persuade me to purchase a back motor car, but John wanted one identical to the McEwen rail. I picked the car up from Woody on New Year's Day 1972, and we had the dragster ready to go by the time of the March Meet. This would turn out to be my last race with Blanchard. As I would discover all too soon, it was easy to catch a red light because it would pick up the front end and start the clock. This was exactly what happened to me in the first round of eliminations against Jeb Allen at the March Meet. After that particular run, Blanchard informed me he wanted to get someone else to drive the car; I told John that I had a problem with that since I owned it! John took his motor, and as luck would have it, I was able to team up with Mike Fuller for the rest of 1972.
In 1973, Larry Huff asked Fuller to be the crew chief on his Soapy Sales car with me doing the driving. We ran the March Meet but broke the motor in the process. Later, we raced it at Fresno's Raisin City making it to the semis. Byron Blair built this car, and I hate to say it, but that car definitely had problems. It shook so hard that every body panel in it was bent. It would break the fuel tank on every run; we used a lot of silver tape trying to mend it. And, I never had to shut it off--the shake would break the mag cap by 1,100 feet on every run. I don't know if Larry was exasperated with me or his race car, but he decided to try another driver. Mike Fuller called to tell me that they were going to put Davy Uyehara in it. By the end of the year, Mike, frustrated with all the breakage, and needing to spend more time on his new underground construction business, sold all his racing stuff. I held onto my Woody car and kept my competition license current, hoping some day to get back into it. Then, in 1991, Mike called me and asked if I was interested in racing. I gave him the Woody car, we built a nostalgia top fuel dragster, and went out and won the inaugural California Hot Rod Reunion in 1992; Mike still has that car today.

This photo illustrates perfectly the problem with Bill's Woody car lifting the front wheels activating the clocks early.

Bill's new Woody car with Blanchard's motor in it; 1972 Bakersfield March Meet.
<Les Welch photo>
Bill's Woody car with Mike Fuller's engine at Sacramento Raceway; in the other lane preparing a fire burn out -- Jim 'The Lizard' Herbert.
<Steve Reyes photo>
Bill putting the whip to Fuller's motor; Mike in the background (at Fremont) holding his ears.
<Mike Bagnod photo>
BILL: Before the Soapy Sales car, I actually drove another car for Larry Huff: Fuller-Huff-Guasco. This was originally Bill Whishart's car that Larry had sold to some Australians. They were in town to pick it up and wanted to see it run. So, I drove it only that once at Fremont-it ran good until they messed with the tune up and actually slowed it down.
The Huff-Fuller-Guasco car at Fremont; in the background left to right: Mike Fuller in the striped shirt; no ID; Rich Guasco in the Mondello t-shirt; Chet Carter; and, Larry Huff with his hands on hips.
<Mike Bagnod photo>
Larry Huff's Soapy Sales car at the '73 March Meet; this car shook so hard at the finish line Bill never had to shut it off--it would shut itself off because the mag cap would always break; hmm - not a good way to silence a nitro motor.
<Tim Marshall photo>
Dunlap - Part 2